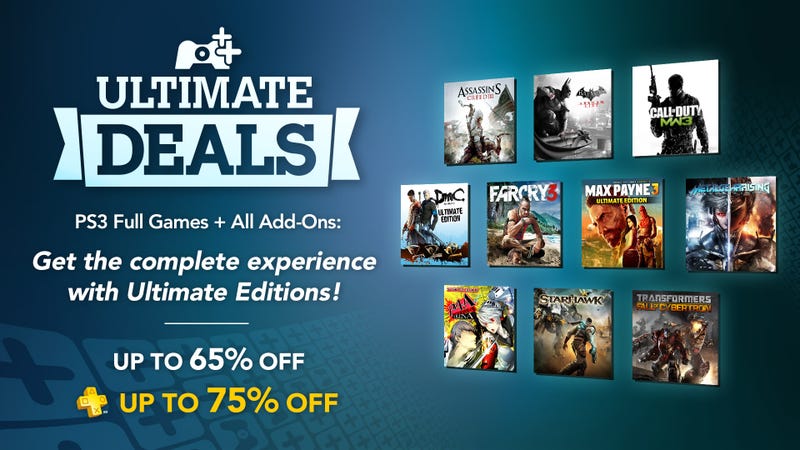 These days, gamers don't just complete games. No, they have to master hidden levels, take on side missions and unearth Easter Eggs. And of course, thanks to that magical thing called the Interweb, finishing a video game is now only the beginning.
Downloadable content lets you add even more blisters to your thumbs as new adventures are streamed directly to your home. Even better, thanks to Sony Entertainment Network's Ultimate Deals sale, the ultimate gaming experience is now available for the PS3, courtesy of 10 new Ultimate Editions. Each includes some of the best PS3 games around, bundled with all of their add-on content!
The following titles are not only available now in the PlayStation Store, but they're priced at up to 65% off, or up to 75% off with a PS Plus membership!
Assassins Creed III Ultimate Edition
Batman Arkham City Ultimate Edition
DMC Ultimate Edition
Far Cry 3 Ultimate Edition
Max Payne 3 Ultimate Edition
Metal Gear Rising: ReVengeance Ultimate Edition
Call of Duty MW3 Ultimate Edition
Persona 4 Arena Ultimate Edition
StarHawk Ultimate Edition
Transformers Fall of Cybertron Ultimate Edition
Don't be the ultimate noob. Check out the Sony Entertainment Network now, and you'll soon find yourself in Gaming Heaven, 10 times over.