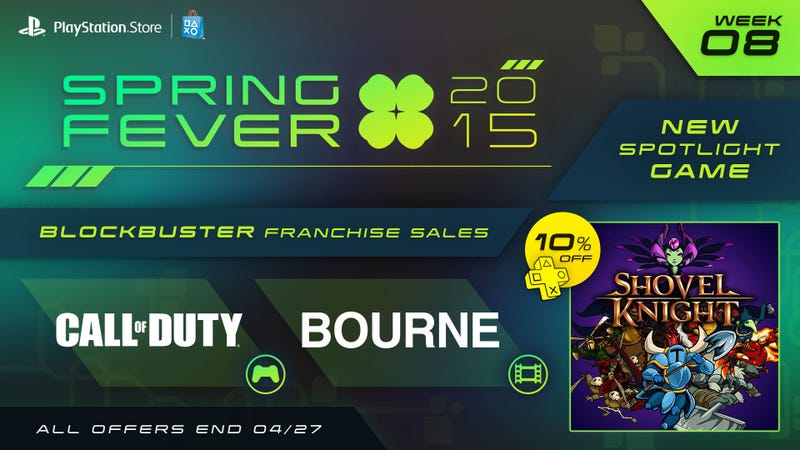 Spring Fever is here! The newly melted snow may offer a welcome reprieve from winter's icy grasp, but what better way to ease into the warmer months than with an epic run of hot new digital games on the PlayStation®Store? The two-month deluge of amazing game launches and other cool discounts is closing out with a big bang and even more sizzling deals this week.
In this final week of PlayStation®Store's Spring Fever Event (ending 4/27), you can get your hands on the deliciously retro platforming hit Shovel Knight at 10% off on PS4, PS3, and PS Vita. All three versions feature a special guest appearance by Kratos from God of War, too! Additional bonus discounts include great deals on Call of Duty franchise games and the Taken film series.
Even if you missed out on past weeks' discounts, there's no reason to skip some of the amazing digital games that have launched earlier during the Spring Fever event, including HELLDIVERS, Hotline Miami 2, Axiom Verge, Bastion, Titan Souls, and more. Stock up on great games that'll keep you busy until summer break rolls around.
Nathan Meunier is a journalist and freelance writer who covers video games, technology, and geek culture. He's also the author of Up Up Down Down Left WRITE: The Freelance Guide to Video Game Journalism, which is out now on Kindle and in print.
This post is a sponsored collaboration between PlayStation Store and Studio@Gawker.