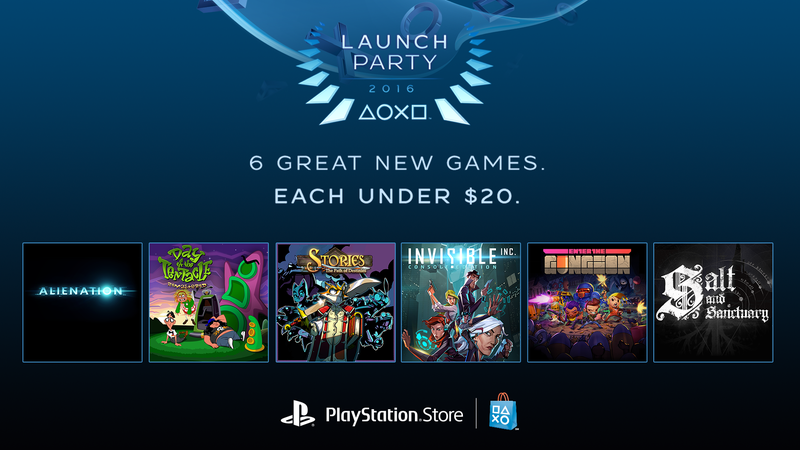 This spring brings an onslaught of new games for digital download on PlayStation Store from celebrated developers. This calls for a celebration! A... launch party, if you will. PlayStation Store's new Launch Party event offers a selection of incredible new releases for 10% off if you preorder them. And they're all available for either immediate download or preorder right now, so get on this! Here's what's on the way:

Salt and Sanctuary (out now): Hey, this one's already out! A hardcore, combat-packed action RPG side-scroller with some seriously cool art direction. Some say it's got a high difficulty level — are you up to the challenge?
Day of the Tentacle Remastered (out 3/22): This classic LucasArts adventure from 1993 is back! Double Fine has completely renovated it, with all-new artwork and remastered music and sound effects. And Double Fine is the home of Tim Schafer, one of the creators of Day of the Tentacle, so you know the remake will be faithful to the original, while polished to a modern sheen.
Enter the Gungeon (out 4/5): Devolver Digital brings this action-packed "roguelike-like" shooter to the PS4. It's a bananas, chaotic, absurdist romp. One of the weapons is a T-shirt gun. Do you really need to know any more?
Stories: The Path of Destinies (out 4/12): Journey into a fairy-tale universe where your choices will have future consequences on Groundhog-Day-like replays. Also, you get to play as Reynardo the Fox, a master of sword-fu. That's right. You're a sword-fighting fox. You should be preordering this immediately.
Invisible, Inc. (out 4/19): Oh snap, my personal favorite game of last year is about to blow up on PlayStation Store. Guide your squad of spies and espionage artists deep into enemy territory through a wide variety of missions in this turn-based tactical stealth masterpiece. If that sounds even slightly interesting, you need to play Invisible, Inc. Trust me.
Alienation (out 4/26): This PS4 exclusive, a spiritual successor to Dead Nation, lets you pick your unique character, then take on alien masses either by yourself, or on a team with up to four players. Drop in on friends' games, kill aliens cooperatively, go nuts!
Wow, that's a fat stack of gaming goodness. Visit PlayStation Store today and join the Launch Party!
Tony Carnevale is a senior writer for Studio@Gawker.
This post is a sponsored collaboration between PlayStation Store and Studio@Gawker.