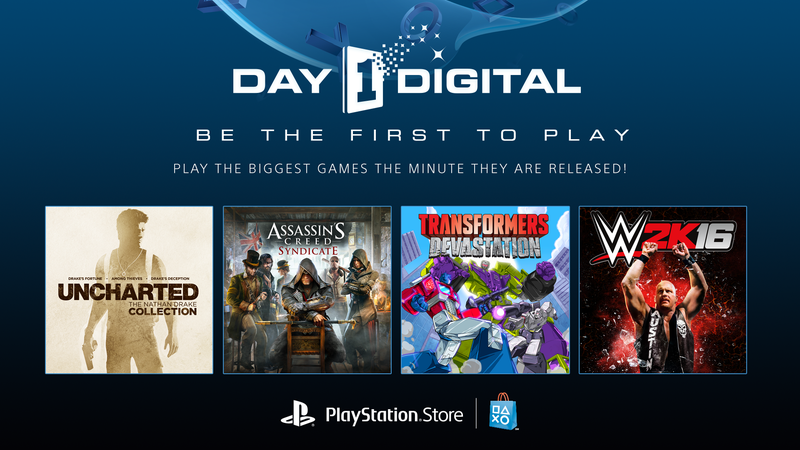 With the ramp-up to the holiday season about to kick into full swing, video game publishers are primed to release their biggest, hottest games, and you need to get them before your friends tell you spoilers. PlayStation Store is the fast lane you need to get in the game immediately. Preorder, preload and play your favorite upcoming games the minute they're released — or grab recent launches you missed — all from the comfort of your own home.
To get you started, here are some PS4 games you can get on PlayStation Store right this very second.
Assassin's Creed Syndicate - Slip into the skin of Jacob Frye, your all-new assassin person, as you carve out your turf in the Victorian-era London underground. Ready to tussle with rival gangs, hijack trains, and get stabby-stabby?
WWE 2K16 - Old meets new in this grand wrestling showdown featuring one of the most epic rosters in WWE game history. Who's going to pummel whom? The choice is yours!
Uncharted: The Nathan Drake Collection - Revisit this phenomenal treasure-hunting adventure trilogy in this gorgeously remastered collection, or get to know Nathan Drake for the first time, if you're new to the Uncharted series.
Transformers: Devastation - Charge into the after-school giant robo action in this stellar love letter to the original Transformers animated series. Fans of the classic cartoon will find that these are most certainly the droids they're looking for.
The upcoming holiday season is flush with amazing games headed to PS4. PlayStation Store is the place to be if you want instant day-one access. Head on over now to preorder and preload this season's biggest games so you can enjoy them the very moment they launch!
Nathan Meunier is a journalist and freelance writer who covers video games, technology, and geek culture. He's also the author of Up Up Down Down Left WRITE: The Freelance Guide to Video Game Journalism, which is out now on Kindle and in print.
This post is a sponsored collaboration between PlayStation Store and Studio@Gawker.