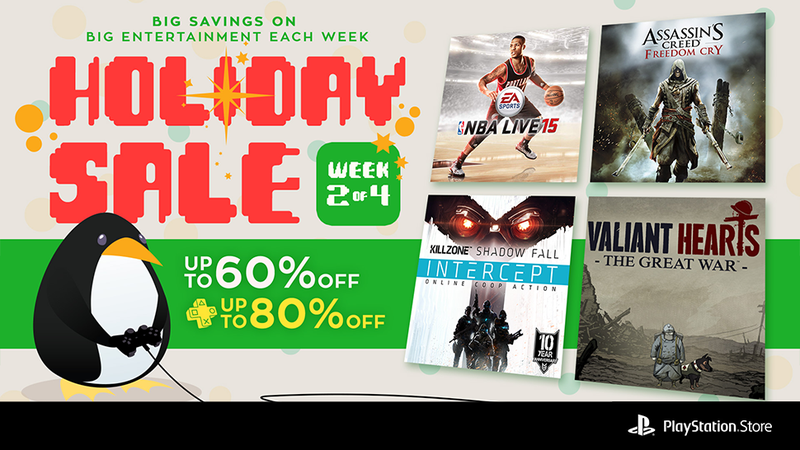 You blinked, didn't you? Yeah, you never even saw it coming, but it's here. The holidays. That means it's time to start making a list, and checking it thrice. Put on your thinking cap and whip up the greatest Holiday Wish List ever. Whether you're simply buying yourself a treat or encouraging others to hook you up, you won't want to miss this super-mega Holiday Sale at PlayStation Store.
So here's the skinny: every week in December, PlayStation Store is ponying up a set number of this year's biggest blockbusters at some incredible savings. The store will be updated with new offerings in the afternoon of each week's start date. Now that Week 1 is over, (you took advantage, right?) here's a look at some of the hottest of the many titles on sale throughout the rest of the month.
Week 2 (12/9-12/16)
Get up to 60% off, 80% off for PS Plus Members on these titles and many more:
NBA Live 15
Assassin's Creed Freedom Cry
Killzone Shadow Fall Intercept
Octodad: Dadliest Catch
Strider
Valiant Hearts: The Great War
Week 3 (12/16-12/23)
There will be many great deals available from PlayStation Store, including:
DC Universe™ Online Ultimate Edition
Don't Starve: Giant Edition
Week 4 (12/23-12/29)
There will be many great deals available from Playstation Store, including:
Alien: Isolation
Battlefield 4 Premium Edition
That's four fantastic weeks of deals to facilitate your festivities. Talk about your Jingle Bell Rock! Go ahead and bring some joy to the gaming world, and take advantage of PlayStation Store's Holiday Sale.
Andrew Kardon is a freelance writer and daddy blogger who lives for video games, comic books, sushi and everything '80s. He still holds on to the belief that the Atari 2600 was the greatest gaming system ever made.
This post is a sponsored collaboration between PlayStation Store and Studio@Gawker.