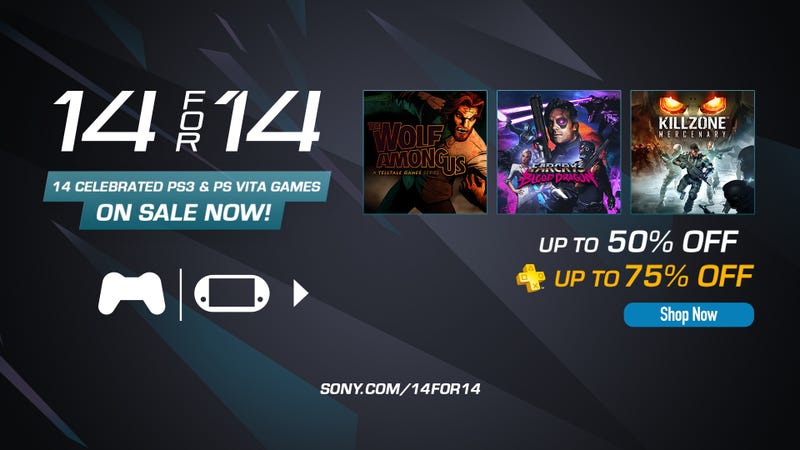 There are a few things in life that can take precedence over gaming. Eating. Sleeping. Breathing. Yeah, that's about it.
So if you missed out on a few of last year's biggest games while you were tending to those responsibilities, don't worry. The PlayStation Store's 14 for '14 sale will help you redeem your status as a gaming superfan. From January 14–21, PlayStation is offering up to 50 percent off 2013's fourteen most celebrated titles. Oh, and they're also including fourteen of this year's must-have PS Vita games in the savings mix. Not a bad way to start the new year.
And for all you savvy PlayStation Plus members, the savings are jacked up even higher. You can save up to 75 percent off these fourteen titles included in the 14 for '14 promotion:
Enslaved™: Odyssey to the West™ Premium Edition
Rayman Legends
The Wolf Among Us Season Pass
Far Cry 3: Blood Dragon
Rain
Lone Survivor: The Director's Cut
Thomas Was Alone
Puppeteer™
Crysis 3
Pool Nation
Bit.Trip Presents . . . Runner2: Future Legend of Rhythm Alien
F1 2013
Tales of Xillia™
Deus Ex: Human Revolution—Director's Cut
While your friends are busy already breaking their New Year's resolutions, you'll be catching up on last year's gaming heavyweights. Head here to shop the PlayStation Store's 14 for '14 sale today! Just don't forget to breathe every now and then, okay?
Andrew Kardon is a freelancer writer and daddy blogger who lives for video games, comic books, sushi and everything '80s. He still holds on to the belief that the Atari 2600 was the greatest gaming system ever made.
This post is a sponsored collaboration between Sony Entertainment Network and Studio@Gawker.