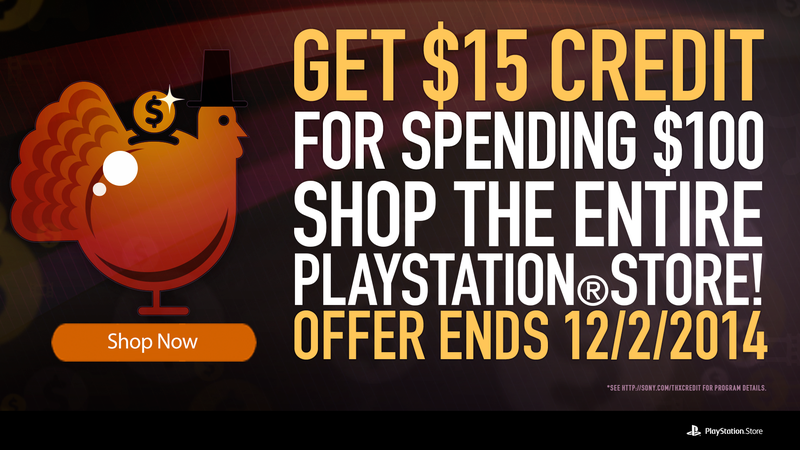 Fall is here and depending on where you live, that might mean that the leaves are falling, but maybe not. Regardless of where you live and what the leaves are doing there, fall always means it's time for the biggest games of the year to be released out into the wild.
In recognition of all the tempting games coming to PlayStation, the folks over at PlayStation Store are chipping in to help your wallet survive the month of November. With the Get $15 Credit for Spending $100 promotion, you can bank some major creds simply by stocking up on only the absolute-coolest new titles to hit the PlayStation family.
From now through December 2, spend more than $100 in the PlayStation Store and you can earn $15 in credit back. The offer applies to everything in the entire PlayStation Store, but grabbing a couple of Day 1 Digital titles will help you break down that threshold easily.
What's that? You don't know what the latest and greatest Day 1 Digital games are? Well, here's a sampling of some of the titles you could get:
Grand Theft Auto V
FIFA 15
Dragon Age Inquisition
NBA 2K15
Destiny
LittleBigPlanet 3
Far Cry 4
Not only will you be getting your hands on the coolest titles around (without even leaving the couch!), but you'll be able to earn credit while you do it. When's the last time you got paid to sit around with your PlayStation?
Andrew Kardon is a freelance writer and daddy blogger who lives for video games, comic books, sushi and everything '80s. He still holds on to the belief that the Atari 2600 was the greatest gaming system ever made.
This post is a sponsored collaboration between PlayStation Store and Studio@Gawker.