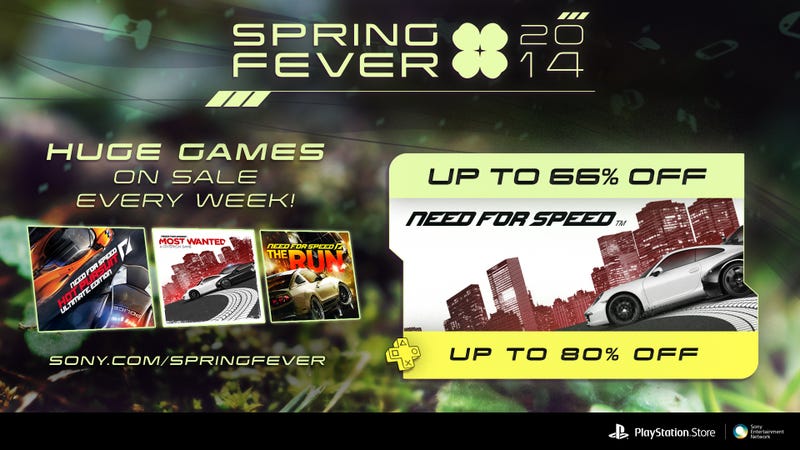 It looks like winter is finally packing it in. That means two pretty great things are about to happen: you can finally bid farewell to the dreaded polar vortex, and everybody's about to catch a fever. In a good way.
Yep, spring is right around the corner and with it comes the inevitable spring fever. Except this is one illness all you gamers will be itching to catch. Starting March 4, the PlayStation Store kicks off its Spring Fever Sale, featuring four weeks of celebratory savings on franchise favorites. With three top-selling Need for Speed titles available at major discounts, it'd be downright criminal to pass up this sale. Here's your Spring Fever schedule:
Week One: Need for Speed
Tear up the savings with Need for Speed! Race to the PSN to save up to 66 percent on the following titles (PlayStation PLUS Members can get up to 80 percent off):
Need for Speed: Most Wanted
Need for Speed: Hot Pursuit
Need for Speed: The Run
Week Two: Call of Duty
Shoot down Call of Duty prices. Get up to 50 percent off at the PSN (and an extra 10 percent off for PlayStation PLUS members) on the following:
Call of Duty: Black Ops 2
Call of Duty: Modern Warfare 3
Call of Duty: Black Ops 1
Week 3: Grand Theft Auto
Snatch up these Grand Theft Auto titles for up to 50 percent off at the PSN (PlayStation Plus members get an extra 10 percent off):
Grand Theft Auto V
Grand Theft Auto IV
Grand Theft Auto Vice City
Week 4: Bioshock
Charge over to the PSN Store to save up to 50 percent on the following Bioshock titles (and an extra 75 percent off for PlayStation PLUS members):
Bioshock Infinite
Bioshock 2
Bioshock 1
Spring fever is most definitely spreading. But with the PSN Spring Fever Sale, being bedridden suddenly doesn't sound all that bad. Head here to shop the PlayStation Store's Spring Fever Sale today!
Andrew Kardon is a freelance writer and daddy blogger who lives for video games, comic books, sushi and everything '80s. He still holds on to the belief that the Atari 2600 was the greatest gaming system ever made.
This post is a sponsored collaboration between Sony Entertainment Network and Studio@Gawker.