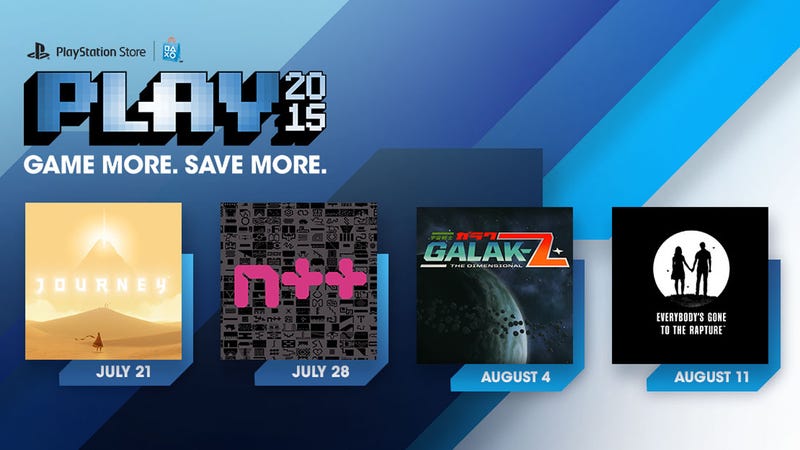 It's a pretty good time to be a gamer. Not only has the much-needed lull of summer freed up more time for gaming, PlayStation Store's PLAY 2015 event is upon us. That means killer discounts on the hottest digital-only games hitting PSN and the launch of newly remastered hit, Journey on PS4. But that's just the tip of the savings iceberg because the more you game on PSN this summer, the more you save!
Until August 18, PS Plus members can get a 20% discount when they pre-order a selection of hotly-anticipated digital games launching on PSN. Even better? If you purchase two or more of these games, you'll also get a 10% off coupon to use anywhere on the PlayStation Store. Not currently a PS Plus member? No sweat! You can still score the 10% discount bonus if you buy two or more games. (But you might want to get on that.)
Sure everyone loves a discount, but what about the games themselves? There's plenty of quality in the PLAY line-up:
7/21 - Journey PS4 - Travel the mysterious desert wastes and ruins in this stylish game. Play solo or with a others online, as you uncover the abstract secrets of this vast, sandy realm.
7/28 - n++ - High-energy puzzle thrills and thousands of handcrafted levels await in this intense, twitchy, and challenging physics puzzle platformer. Are your ninja skills up to the challenge?
8/4 - GALAK-Z - Get ready for cartoonish space pew-pew at its finest, with this stylish and frenetic "rogue-lite" shooter. Battle alien forces across the galaxy, as you upgrade and expand your ship with crazy weapons.
8/11 - Everybody's Gone to the Rapture - Something is horribly amiss in the English countryside, when everyone in a bucolic villa vanishes. Your job is to get to the bottom of things in this gorgeous and absolutely eerie first-person adventure.
With these excellent digital PSN launches on the horizon, don't forget to act now and pre-order to grab your discount, and double-down to get an even bigger bonus.
Nathan Meunier is a journalist and freelance writer who covers video games, technology, and geek culture. He's also the author of Up Up Down Down Left WRITE: The Freelance Guide to Video Game Journalism, which is out now on Kindle and in print.
This post is a sponsored collaboration between PlayStation Store and Studio@Gawker.