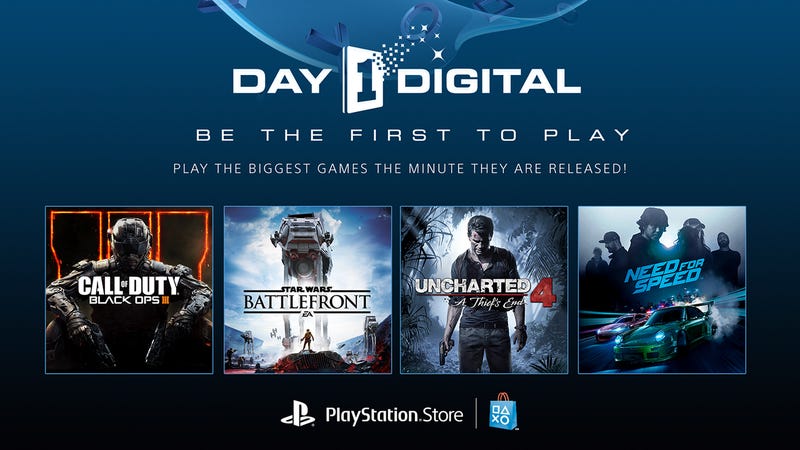 It's usually good to be first. First car at the traffic light. First row at a rock show. And of course, first to play the hottest, newest game on your PS4. On PlayStation Store, games are available just as early as they are at your local retailers. And the holiday season is when the biggest and best games come out. If you haven't ever pre-ordered, pre-loaded, and played a game on PlayStation Store, you probably haven't been the first to play.
Here are some titles available now and for pre-order on PlayStation Store to get you started:
Call of Duty: Black Ops III — In the latest installment of the legendary military franchise, you'll shoot your way through 2065, a dystopian future in which humans have incorporated robot technology to an unprecedented extent. Everybody's part robot now! Presumably metal detectors are no longer used for security purposes.
Need for Speed — The legendary street racing franchise just got a full reboot. If the graphical detail doesn't melt your eyeballs, the adrenaline rush will. This is the perfect game for series aficionados as well as anyone eager to dive into this long-running property for the first time.
Star Wars Battlefront — The long wait is over, and Star Wars Battlefront is here! You've never been able to immerse yourself in the Star Wars universe quite like this. EA had an insane level of access to original Star Wars props and locations while making this game. Fight as key characters from the films, fly X-wings, TIE fighters, and the Millennium Falcon, in first- or third-person perspective. And may the Force be with you.
Uncharted 4: A Thief's End (available 3/18/16) — Nathan Drake is summoned from retirement back into fortune hunting when his older brother Sam (whom he thought was dead) shows up, needing some brotherly assistance. They team up to take on a thrilling adventure that spans across the world.
So there you have it. If you haven't started using PlayStation Store for day-one digital access to your most anticipated games, you're clearly missing out. Fortunately, you can remedy that situation immediately.
Tony Carnevale is a senior writer for Studio@Gawker and will totally play games with you.
This post is a sponsored collaboration between PlayStation Store and Studio@Gawker.